What is OnTopReplica?
Ontopreplica is really exactly what it sounds like. It is a Real Time, Always-on-top window that displays whatever you like. Supported Systems are:
Windows Vista
Windows 7
Windows 8
Windows 10
What Can I Do With OnTopReplica?
Lets say that you are working on an excel document and you want to have a movie on, but you need the full screen to work on your document. You can open up OnTopReplica and use it to show the movie screen in a window that you can scale to the size you want. Then…..that's it! The window will remain on top of all your other windows and you can continue to work as you would normally.
See the Picture Below. I have CBSN open as an example while I search something on google. No matter what window I click or what folders or windows pop open, CBSN will stay at the top right of my screen. It's like having a live post-it note stuck to your screen with whatever you want on it.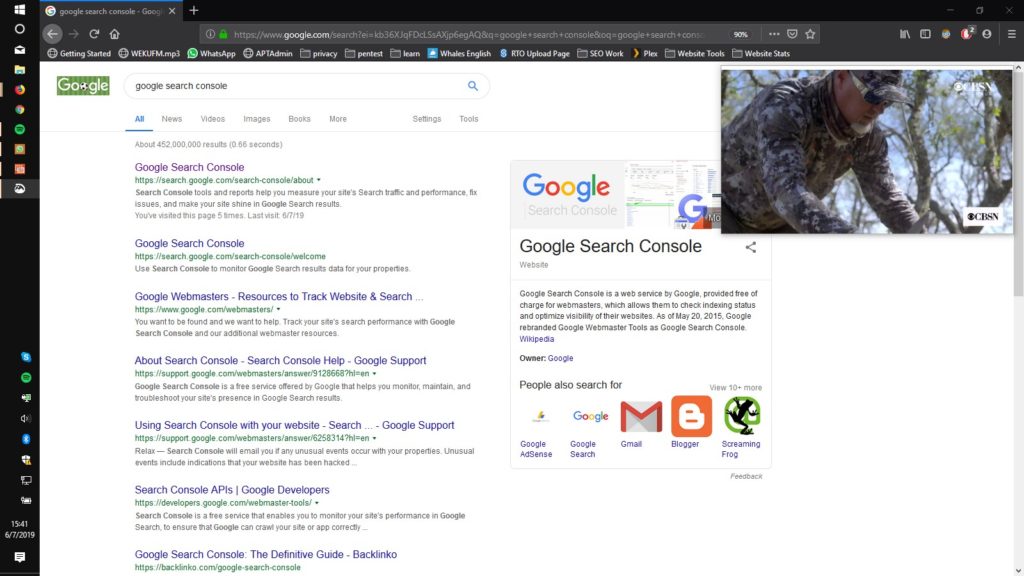 Installation Instructions
Installation is a piece of cake. You download the installation file (conveniently in a .msi) and double click… That's all!
The Direct link to the Zip file is located: Here (working as of 6.7.2019)
The GitHub Page for the Project is located: Here
This tools is really helpful if you want to just have a movie playing in the background and want to check in on a scene or maybe want to watch the news out of the corner of your eye. I have it open to keep an eye on Analytics when releasing a new site or just after notifying subscribers that a sale is taking place for a client.
Features:

Clone any of your windows and keep it always-on-top while working with other windows
Select a sub-region of the cloned window, which: Can be stored for future use
Can use relative coordinates from the target window's borders.
Auto-resizing (fit the original window, half, quarter and full-screen mode)
Position lock on any corner of your screen
Adjustable opacity,
"Click forwarding": allows to interact with the cloned window,
"Click-through": makes the replica ignore any mouse interaction (turns OnTopReplica into an overlay if set together with partial opacity)
"Group switch"-mode automatically switches through a group of windows while you use them.
Conclusion
Download it! This makes keeping an eye on something super easy without having to minimize, resize, or get another monitor.
Got a tool that you can't live without?
Leave a Comment Below and let us know what your favorite productivity tools is and maybe we will do a quick review of it here on 4Site!